Player: Carlo Biado
Event: 2017 Derby City Classic "Big Foot" 10-Ball Challenge
Location: Elizabeth, Ind.
Date: January 21, 2017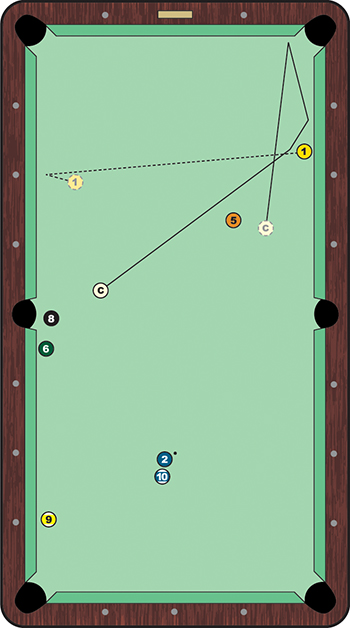 It could just be a result of selective memory, but how many times has a player sunk three or four balls on the break, only to have no choice but to push-out or immediately play safe? It seems as frequent as another player mishitting a break, only to have a ball drop and a perfect angle on the 1. At this year's "Big Foot" 10-Ball Challenge, a 16-player, single-elimination event at the Derby City Classic, such was the fate of Carlo Biado in a set against Ruslan Chinahov. The Filipino star sank three balls on the break (on a 10-foot table no less). But the 1 ball was partially hidden behind the 5 ball.

On a 40-second shot clock, Biado didn't have much time to make a decision. Only seeing a fraction of the left side of the 1, he could try a risky defensive shot or, which seemed more likely to commentators Mark Wilson and Scott Rabon, push out and let his opponent make the decision.

Biado chalked his cue and tapped his tip at a few spots on the table. He was subtly tipping his hand for what he had in mind. His plan: a very creative safety that required his controlling both cue and object balls, using the 5 ball as the barrier between the two.

Biado rolled the cue ball into the left side of the 1, with it then bouncing off the long rail and head rail before heading down-table. It stopped just inches to the right of the 5. The 1 ball, meanwhile, skipped across table, hitting the left long rail and stopping inches afterward.

Biado left Chinahov with no sight on the 1. He took the rack and the set, 11-8, before eventually falling in the semifinals.
(Video clip provided by
Accu-Stats Video Productions
.)
(Check out Accu-Stats' full library of great shots and amazing matches at www.accu-stats.com)