Player: Corey Deuel
Event: 2004 U.S. Open 9-Ball Championship
Date: Sept. 6-12, 2004
This month's entry capped a series of stellar plays by Corey Deuel in the 14th rack of his match against Mike Immonen at the 2004 U.S. Open 9-Ball Championship in Chesapeake, Va. Already on the hill, 10-3, Deuel started the frame by playing the 1 ball off the 2 and into the side pocket. When his cue ball rolled short after the sinking the 2, he simply kicked the 3 off the foot rail and into the uptable corner pocket — leaving him with the situation diagrammed here.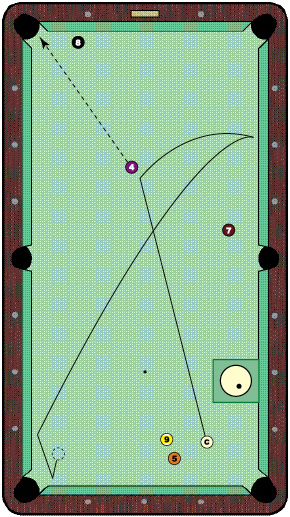 What's eerie is the paltry amount of time Deuel needed to size up this table-length shot on the 4, chalk his cue and execute such an audacious stroke — a mere 20 seconds. But at this point in the match, Deuel was confident and freewheeling.
"When I feel I can make it, I go with my instincts," Deuel said, recalling the situation. "I used to practice a lot of these stroke shots. I've hit plenty of them."
He set his contact point "at about five o'clock" and applied a jackhammer stroke. After knocking home the 4, the cue ball traced two arcs uptable before strolling down to the footrail and fine position for the 5.
In retrospect, Deuel said this probably wasn't his only option. "I suppose I could have shot it in the other corner and gone three rails to the same position," he said. "If I had followed it, I would have scratched; I know that."
The shot brought the crowd around the TV table to its feet. Deuel grinned and quickly ran to the game-winning 9 — which he promptly bobbled in the corner pocket. Perhaps he was too amped after such an electric shot. He eventually won the match, 11-6.
(Check out Accu-Stats' full library of great shots and amazing matches at www.accu-stats.com)