Player: Jeremy Jones
Event: Accu-Stats "Make It Happen" One-Pocket Invitational
Location: Edison, N.J.
Date: June 3, 2016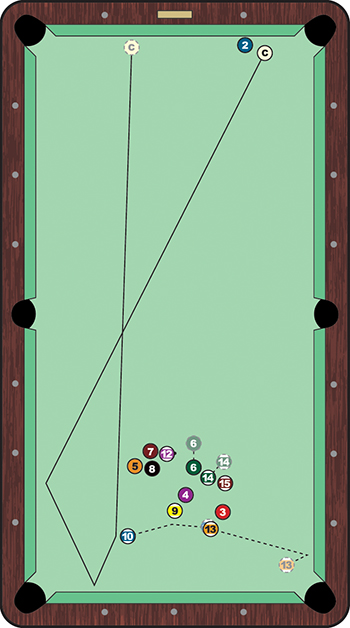 This summer's Accu-Stats "Make It Happen" One-Pocket Invitational in Edison, New Jersey, brought six of the country's best one-hole talent—and the undisputed G.O.A.T. Efren Reyes, who ended up winning the event with a 5-1 record in the round-robin tournament. Day Two paired U.S. Open champ Jeremy Jones against journeyman Danny Smith in the race-to-3 format.

Jones didn't wait long before he uncorked an ingenious one-pocket shot that, as often happens in the cerebral discipline, quickly put him at a position of strength when Jones was in a tough spot when walking to the table. Smith had sunk two balls when Jones found himself in the position shown in the diagram. Shooting for the bottom right pocket, the lanky Texan had the cue ball pushed up against the headrail. The stack of balls around the spot didn't provide much for either player, but Jones used a little creativity and a lot of skill to make something out of almost nothing.

Billy Incardona and Danny DiLiberto, both of whom know a little about one-pocket, couldn't see what Jones was up to when he took aim for the left long rail. The layout didn't exactly look kick-friendly, but Jones eyed the 10 ball as a possibility to tilt the table in his favor.

Sending the cue ball off two rails, he clipped the left side of the 10, sending it into the stack. It eventually shot the 13 ball against the right rail and put it right in front of his pocket. The cue ball then drifted back up-table, barely missing the 5, on its walk toward the headrail.

Smith was in a tough spot with the skillful kick. Jones eventually won the rack and the match, 3-1.
(Video clip provided by
Accu-Stats Video Productions
.)
(Check out Accu-Stats' full library of great shots and amazing matches at www.accu-stats.com)