Player: Shane Van Boening
Event: 2015 Accu-Stats "Make It Happen" 10-Ball Invitational
Location: Edison, New Jersey
Date: December 20, 2015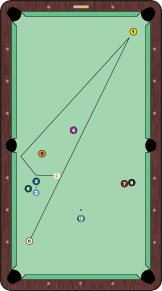 Some fans take extra pleasure in the subtle genius displayed by an athlete. In football, it could be a safety reading the quarterback's eyes for an interception. In tennis, it could be a groundstroke to set up a winner. In pool, it could be precision position or an ingenius safety.

Well, this month's "Stroke of Genius" is as subtle as a jackhammer. Shane Van Boening's jaw-dropping shot is more akin to a LeBron James dunk or an Aaron Judge 500-foot home run.

The American was 3-1 entering the fifth match of the six-player round robin "Make It Happen" 10-Ball Invitational. Facing Darren Appleton, Van Boening jumped out to a 5-3 lead in the race-to-13.

He sank two balls on the break in Rack 10, but the cue ball sat a table's length from the 1 in the upper right corner of the diagram. The 4 was millimeters away from blocking Van Boening's path to the 1, but he could see enough of it. Still, position for the 2 ball, sitting alongside the left long rail near the 6, was anything but natural.

Taking nearly full aim on the 1, Van Boening loaded up on draw. He drilled the object ball into the pocket, while the cue ball spun back toward him. It threaded the needle between the 5 ball and side pocket. The cue ball then grazed the 2 ball, moving it just a few inches, before coming to rest with a playable angle for the bottom left pocket.

The skill — and power — needed to pull off a shot like this speaks for itself. Van Boening kept rolling through the racks to beat Appleton and win the event with a finals victory over Jayson Shaw.
(Video clip provided by
Accu-Stats Video Productions
.)
(Check out Accu-Stats' full library of great shots and amazing matches at www.accu-stats.com)