Player: Pin Yi Ko
Event: 2016 U.S. Open 9-Ball Championships
Location: Norfolk, Virginia
Date: October 20, 2016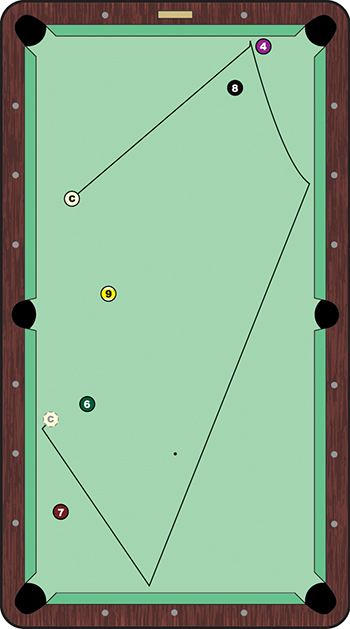 To continue Billiards Digest's celebration of the 30th anniversary of the release of "The Color of Money" — checkout last month's feature if you haven't already — we'll pull a quote from Paul Newman's "Eddie Felson," where he's knocking 9-ball.
"This ain't pool. This is for bangers. This is like hand-ball or cribbage or something."
OK, Eddie, we get that you like straight pool, but this month's Stroke of Genius shows that rotation pool takes a little skill as well.
At this year's U.S. Open 9-Ball Championships, Taiwan's Pin Yi Ko was trailing Dennis Orcollo, 6-3, when he found himself in the tough spot shown in the diagram. Ko played the position he wanted on the 4 ball, but that didn't make things easy. He had to get position on the 6 along the long rail, which was blocked from the bottom left corner by the 7. The 8 made position tricky, forcing Ko to load up on inside English and send the cue ball off the right long rail.
The cue ball curved off the head rail, going four rails into perfect shape for the 6 ball in the right side pocket. From there, Ko's out was as simple as can be. This kind of shot shouldn't be surprising for Ko, who's been feeling it for a solid two years now. But the double world champion from 2015 — winning 9-ball and 10-ball crowns — couldn't outlast Orcollo in this contest, dropping the set, 11-9, to finish in 12th.
As Fast Eddie said, "What the hell? Checkers sells more than chess." If that's the case, this shot was like a double or triple jump to get kinged.
(Video clip provided by
Accu-Stats Video Productions
.)
(Check out Accu-Stats' full library of great shots and amazing matches at www.accu-stats.com)