Player: Corey Deuel
Event: U.S. Open 9-Ball Championship
Date: September 29, 2006
ON A tip from a faithful reader (thank you, Greg!), we've found two unbelievable shots from the very same rack. So for next two months, we'll take a look at a pair of offerings from Corey Deuel's difficult out against Johnny Archer at the 2006 U.S. Open.
The two former Chesapeake champions met in the fourth round of the winners side, with Archer grabbing an early 6-1 lead. Deuel, though, fought his way back into the match by taking the next four games to close the gap to one rack.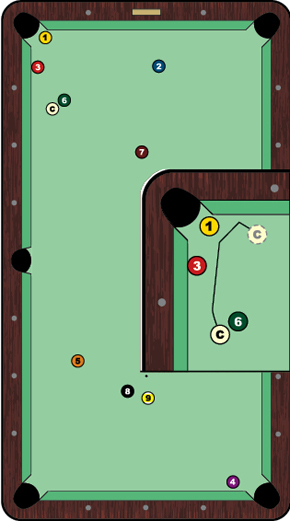 After a dry break from Deuel, Archer missed a tough cut on the 1 ball into the upper left corner pocket. The 1 ball sat just off the point of the pocket, while the cue ball traveled the length of the table and back before breaking up the 3-6 cluster. The straight shot at the 1 was blocked by just a sliver of the 6.
Deuel, never short on creativity, measured the cue ball's tight quarters for a possible masse shot. An eighth of an inch away from the 6, the cue ball would have to jump to the left and then turn to the right to avoid the 3 ball against the long rail.
"We'd like to get Houdini out here, because we'd like to see how he'd do this," joked Accu-Stats commentator Martin Courtois. Jacking up at a 60-degree angle, Deuel hit the right side of the cue ball just above the horizontal axis with near-pocket speed. The cue ball deflected left and then rolled straight toward the outside of the 1 ball. The 1 hit the point of the pocket before falling. The cue ball gently rolled off the short rail, leaving Deuel with an angle on the 2 to continue his run.
Unfortunately, it wouldn't be long before Deuel was staring down another tough shot, which will be covered in the March edition of Stroke of Genius.
(Video clip provided by
Accu-Stats Video Productions
.)
(Check out Accu-Stats' full library of great shots and amazing matches at www.accu-stats.com)