Player: Darren Appleton
Event: 2016 "Make It Happen" 8-Ball Invitational
Location: Edison, New Jersey
Date: November 20, 2016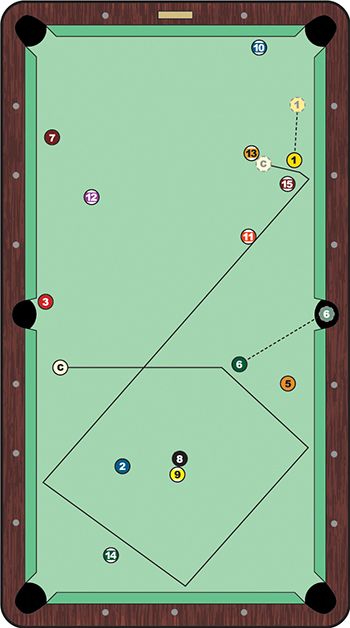 Darren Appleton is fairly familiar with 8-ball—in the same way the new President of the United States is familiar with Twitter. Appleton first conquered the English variation of 8-ball before jumping across the Atlantic Ocean to play in the International Pool Tour. He even topped the 2015 Chinese Pool World Championship (featuring a sort of hybrid of American 8-ball and snooker).

At last fall's Accu-Stat's "Make It Happen" 8-Ball Invitational, "Dynamite" struggled through the first four matches of the round-robin event, collecting a suprising 1-3 record. But in his final match against Rodney Morris, the Brit showed a top speed that can outpace just about any other player on the planet.

Appleton raced out to a 9-3 lead in the alternate-break race-to-10. On the hill, he pocketed a solid on the break. The event's "take what you make" rule made Appleton's decision for him. The biggest problem: The 1 ball was tucked into a cluster with two stripes against the long rail, as you can see in the diagram.

It's always preferable to handle problems earlier in a rack, but an obvious solution didn't quite present itself. Instead, Appleton manufactured an answer to the 1 ball's tricky situation.

A slight cut on the 6 ball into the left side pocket offered a natural angle for the cue ball to go three rails back up-table. The real mastery in this shot was playing the cue ball perfectly off the fourth rail. It missed the 15 by a hair, only to push the 1 toward the corner pocket. He had an easy angle on that ball, which he sunk on his way through the rack to take the match 10-3.
(Video clip provided by
Accu-Stats Video Productions
.)
(Check out Accu-Stats' full library of great shots and amazing matches at www.accu-stats.com)