Player: Efren Reyes
Event: Accu-Stats "Make It Happen" One-Pocket Invitational
Location: Edison, N.J.
Date: June 27, 2015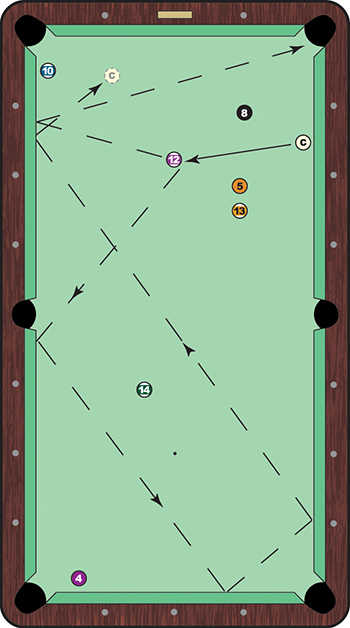 It's only natural for a difficult shot to lead to a creeping thought in your head. "What if this doesn't work out?" Addressing the possibility of missing or misplaying position with the cue ball is something every player should do. But for those pool players who don't have the ability or mental strength of top-tier professionals, this "what if" can lead to a crisis in confidence. At the 2015 Accu-Stats One-Pocket Invitational, Effren Reyes found himself in a tough spot. But the Magician came up with a two-way shot that would either win him the game or give him a fighting chance if he missed. Down 6-2 in balls and tied 1-1 in games in the race to three, Reyes needed to make something happen. With his pocket in the lower right corner, he had a tricky angle on banking the 8 ball into his pocket. He also could kick at the 10 near the pocket of his opponent, Danny Smith. Of course, the greatest one-pocket player of all time had a different plan. He opted for a bank on the 12 ball that seemed to let the cue ball loose because of its angle into the 12. Reyes hit the 12 with medium speed, banking it perfectly into his pocket. The cue ball then went four rails, eventually coming to rest just underneath the 10 near the bottom right pocket. He banked the 10 and dropped four more balls for the win. But revisiting his risky bank, Reyes actually had planned for a possible miss on the 12. Had he failed to sink the ball, the cue ball would still be below the 10, giving Smith few decent options to keep his run going. Of course, Reyes executed the shot perfectly, but it's somewhat comforting to us mortals that even the greats plan for misses.
(Video clip provided by
Accu-Stats Video Productions
.)
(Check out Accu-Stats' full library of great shots and amazing matches at www.accu-stats.com)