Player: Jayson Shaw
Event: 2016 "Make It Happen" 8-Ball Invitational
Location: Edison, New Jersey
Date: November 18, 2016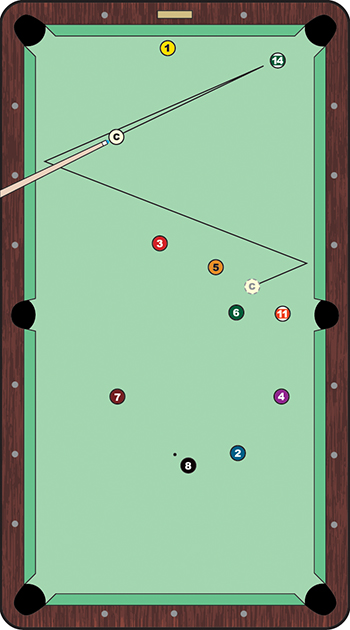 The freshly finished 2016 season was a breakout year for Jayson Shaw. The Scotsman, who relocated to New York a few years back, topped $150,000 in earnnings, more than three times as much as any prior season. He won the Kuwait 9-Ball Open and a third Turning Stone. And he booked his first spot on Team Europe at the Mosconi Cup.

But for all the talk about what he did, here's a great example of how he did it. The 28-year-old found himself in a tricky spot at the Accu-Stats "Make It Happen" 8-Ball Invitational. Facing fellow U.K. native Darren Appleton, Shaw was on the hill and running his way to victory.

But, thanks to a bit of bad luck, Shaw saw the cue ball fall straight in line with the 14 and the corner pocket. With just one object left before the 8, he had to get creative. A wall of blockers meant Shaw had to rely on a power draw to find an ideal angle on the penultimate ball.

With plenty of power, Shaw drilled the 14 in the upper right corner. The cue ball spun in place for an instant before heading right back at the shooter. It bounced off the left long rail and headed across table. With a perfect amount of speed, Shaw sent the cue ball off two rails, in perfect position for the 11.

After sinking the 14, he easily sank the 11 in the side, while the cue ball floated down-table, nudging the 4 and stopping with a perfect angle on the 8.

Shaw cleared the table for an impressive 11-6 win over Appleton, himself a former world champion in 8-ball. Shaw then went on to win the round-robin event with another win over Shane Van Boening.
(Video clip provided by
Accu-Stats Video Productions
.)
(Check out Accu-Stats' full library of great shots and amazing matches at www.accu-stats.com)