Player: Francisco Bustamante
Event: 2017 Accu-Stats "Make It Happen" One-Pocket Invitational
Location: Edison, New Jersey
Date: June 9, 2017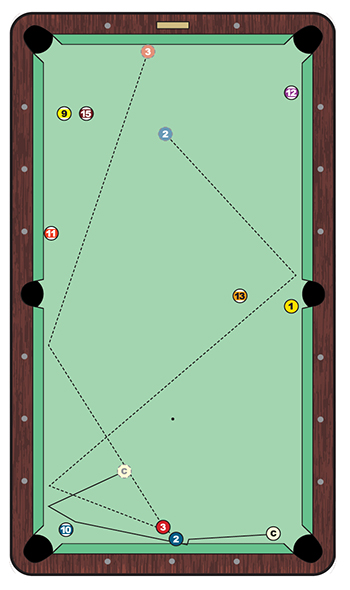 Francisco Bustamante is not necessarily known as a one-pocket expert, but the guy has proven he's pretty capable in any game. A BCA Hall of Fame career and a boatload of titles can back him up, so whether it's rotation or one-hole, Django can uncork a "Stroke of Genius" at any point.

At last month's Accu-Stats "Make It Happen" One-Pocket Invitational in Edison, N.J., Django faced Shane Van Boening in the six-player round-robin event. Down 2-0 in the race-to-four, Bustamante found himself in a tough spot in Rack 3. While up 6-0 on balls, he didn't have much when he came to the table outlined in the diagram to the right.

With the cue ball buried by his own pocket (the bottom right), Bustamante had the 10 sitting by Van Boening's hole, with an awkward two-ball obstacle between it and the cue ball. The 2 and 3 were in a relatively neutral spot along the center of the foot rail. But a little creativity and a lot of skill allowed Bustamante to escape a pretty dicey situation.

With plenty of top-right English, the Filipino legend sent the cue ball into the 2. The 2 hit the 3, ricocheting to the left and hitting the short rail, before spinning forward, clipping the 10 ball into Van Boening's pocket, before bouncing softly off the long rail. The 2 and 3 ran up-table, coming to rest along the centerstring.

In the end, Van Boening was left with few offensive options with the 10 spotted. The 2 and 3 were in relatively harmless spots as well. Still, the American managed to take the rack and the match, but Bustamante showed he can flash greatness with this little gem.
(Video clip provided by
Accu-Stats Video Productions
.)
(Check out Accu-Stats' full library of great shots and amazing matches at www.accu-stats.com)