Player: Semih Sayginer
Event: Sang Lee Open
Date: May 14, 1994
BY THE time Semih Sayginer made his way to the 1994 Sang Lee Open in Elmhurst, N.Y., the 30-year-old Turk was well-known to three-cushion aficionados as a dynamic shot-maker who rocketed from nowhere to the top of the sport in just two years. But with a creative brilliance and a showman's personality, Sayginer electrified hardened billiard fans when he battled Lee in the opening match of the tournament.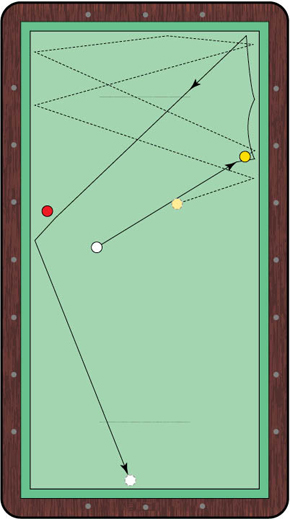 At the time,
BD
resident three-cushion expert Robert Byrne commented that Sayginer's only weakness appeared to be an "occasional impatience and perhaps too great a fondness for shots he knows will electrify the grandstand." Maybe not great for his game, this proclivity is exactly what
Stroke of Genius
is all about.
On his way to blistering the event's host, 60-26, in just 18 innings (then a U.S. record), Sayginer unleashed this tricky force-follow shot that left Lee laughing in disbelief. With the yellow just a ball's width off the rail, Sayginer loaded up on follow with a touch of left English. He drilled the cue ball with a short, rather punchy stroke, sending the yellow rattling around the top of the table. The cue ball obeyed the Turkish Prince's command, doubling the long rail before spinning off the short rail on its way toward the red near mid-table. Just missing the yellow on its way across the table for the fourth time, the cue ball just barely glanced off the left side of the red before coming to a stop on the short rail on the other side of the table.
Unfortunately for Lee, Sayginer turned in another brilliant performance in the next round, as he won a 50-32 match that finished in just 14 innings - as the two paired for an eye-popping combined average of 5.857.
(Video clip provided by
Accu-Stats Video Productions
.)
(Check out Accu-Stats' full library of great shots and amazing matches at www.accu-stats.com)