Player: Shane Van Boening
Event: Accu-Stats Make It Happen One-Pocket Invitational
Location: Edison, N.J.
Date: April 13, 2013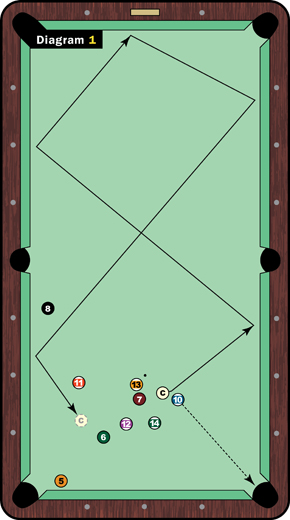 THIS SPRING, six of the world's best gathered in Edison, N.J., for the Accu-Stats One-Pocket Invitational. In a round-robin format that produced 15 remarkable matchups, wins weren't going to be easy in the race-to-3 format.
The final match on the penultimate day was unquestionably a headliner. Shane Van Boening - two-time winner of the Derby City one-pocket division - faced Efren Reyes, who has five Derby titles in the discipline.
The American took two of the first three racks to get on the hill. He then picked off the first six balls of Rack 4 when he found himself in the position shown in Diagram 1. Butted up to the 10 ball with his pocket in the bottom right, Van Boening had a tricky task ahead of him; not only did he have a razor-thin cut on the 10 to get within a ball of victory, there was only one ball - the 6 - that had a clean path to his pocket to clinch the victory.
Undaunted by having to go five rails for an angle on the 6, Van Boening punched the cue ball into the 10 with a big stroke, using a bit of bottom right English. The 10 jumped into his pocket, while the cue ball pinballed around the top of the table, the right sidespin helping to open up the ball's angle back down-table. The cue ball slowed as it rolled into its fifth rail, eventually coming to a stop within inches of the 6. A thin cut later, Van Boening had a 3-1 victory against Reyes.
While not always as spectacular as this, Van Boening proved to be the best of the best, and he won the event outright with an overall record of 4-1 - with his three other wins coming against Shannon Daulton, Alex Pagulayan and Scott Frost.
(Video clip provided by
Accu-Stats Video Productions
.)
(Check out Accu-Stats' full library of great shots and amazing matches at www.accu-stats.com)