Player: Fedor Gorst
Event: 2017 Derby City Classic "Big Foot" 10-Ball Challenge
Location: Elizabeth, Ind.
Date: January 21, 2017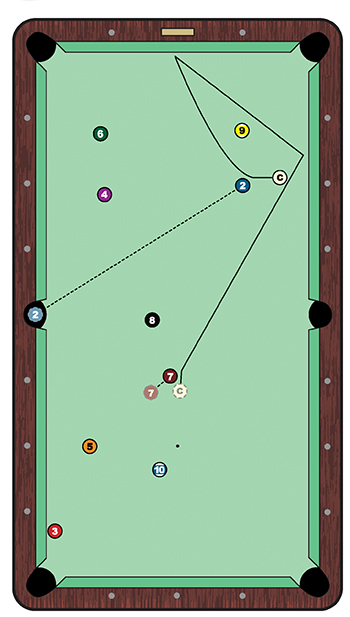 Fedor Gorst, in his first trip to the Derby City Classic, didn't waste time getting in on the action. The then 16-year-old Russian dove into the deep end by ponying up $1,000 to enter the DCC "Big Foot" 10-Ball Challenge. The 16-player, single-elimination event attracts a field of world champions, like previous winners Shane Van Boening and Dennis Orcollo.

Gorst, a two-time gold medalist at the European Junior Championships, faced Darren Appleton in his first round match. Down 4-2, the Russian took control of the table after his opponent's dry break.

After sinking the 1 ball that was hanging in the corner pocket, Gorst has a slight angle on the 2 for the opposite side pocket. But a path to the 3, frozen to the long rail near the bottom left corner pocket, doesn't seem to present itself. With the cue ball just four or five inches from the 2, Gorst loaded up on right (outside) English. With a bit of draw, he firmly struck the 2, which went directly in the left side pocket. The cue ball popped up in the air on its way to the middle of the top short rail. The sidespin bent the cue ball's path behind the 9 ball and back to Gorst at the left long rail.

The cue ball headed down-table and clipped the left side of the 7. It stopped on the center string, giving Gorst a perfect angle on the 3. The Russian went on to beat Darren Appleton, 11-10. But he was then ousted by Carlo Biado in the next round, 11-10, so he didn't finish in the money. But the young gun finished an impressive fourth in the DCC 9-ball division and 15th in the 9-ball banks.
(Video clip provided by
Accu-Stats Video Productions
.)
(Check out Accu-Stats' full library of great shots and amazing matches at www.accu-stats.com)