Player: Carlo Biado
Event: Derby City Classic 10-Ball Tournament
Location: Elizabeth, Ind.
Date: January 30, 2014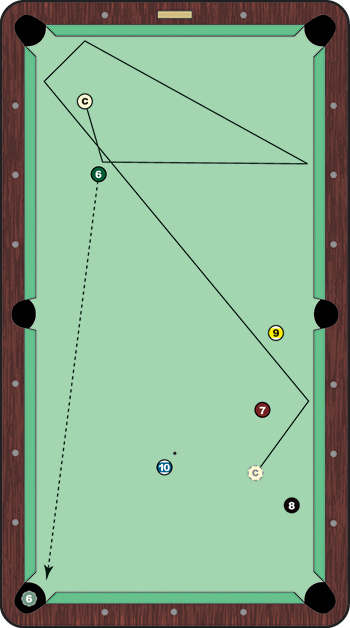 Finding the similarities in boxing and pool doesn't require too much of a reach. Both pit two competitors in direct combat for a single piece of real estate. Power is impressive, but ultimate success often comes down to finesse. And strategy—even simply understood as offense vs. defense—requires constant recalibration.

Such parallels were on display at the 2014 Derby City Classic, where Carlo Biado took on Ralf Souquet in the 16-player 10-ball tournament. Played on 10-foot tables, the event attracts a star-studded lineup of players, who often find themselves in interesting positions. With his opponent on the hill, 10-7, Biado showed how quickly a pool player can go from throwing a haymaker to putting his guard up. He worked his way through the rack after an empty break from Souquet. But when he played position on the 6, the cue ball came up a bit short, as you can see in the diagram.

The Filipino star had a tough angle on the 6, not to mention the difficult route for the cue ball to get an angle on the 7. What was his only feasible offensive option, Biado opted to back-cut the 6 into the lower left corner. Hitting the cue ball with low, left English, Biado played position by going four rails.

The impressive bit of shot-making helped Biado retain control of the table, but he — somewhat unluckily — ended up without a shot on the 7. Biado had to go on the defensive, dropped a difficult safety on his opponent but nudging the object ball up-table, while hiding the cue ball behind the 9.

Alas, Souquet put Biado down for the count by tallying a final rack for the match.
(Video clip provided by
Accu-Stats Video Productions
.)
(Check out Accu-Stats' full library of great shots and amazing matches at www.accu-stats.com)