Player: Skylar Woodward
Event: Derby City Classic — 9-Ball Division
Location: Elizabeth, Indiana
Date: Feb. 2, 2019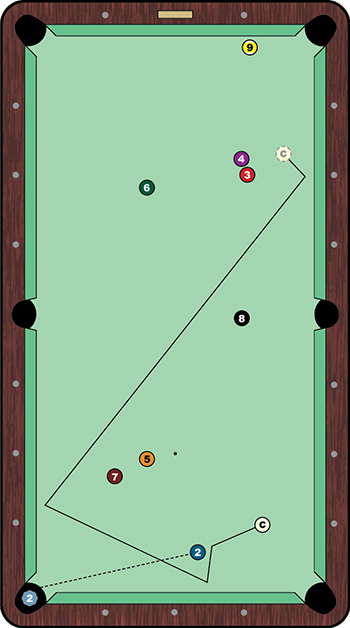 Skylar Woodward was feeling it by the time he rolled into Elizabeth, Indiana, for this year's Derby City Classic. The then-25-year-old was fresh off his MVP performance at the 2018 Mosconi Cup, where the upstart Americans ended Team Europe's eight-year winning streak.

The Kentucky native only gained confidence during the first few days of the free-wheeling event by tying for third in the opening 9-ball banks division and finishing tied for 10th in one-pocket. He was chasing the $25,000 all-around title with a deep run in the 9-ball event when he ran into Dennis Orcollo in the 12th round, with just five players remaining in an event that allows players to buy back into the field after one loss.

Still undefeated, Woodward jumped out to a 5-3 lead against Dennis Orcollo, who already bought back into the event. Woodward, looking at a difficult rack, played safe after sinking the 1 ball, forcing Orcollo to foul when he failed to contact the 2 ball.

As you can see in the diagram, Woodward hardly had a clear path to victory. The primary obstacle was the 3 ball, tied up with the four in the upper right. Woodward had to play the 3 into the left side pocket if he wanted to avoid sending the cue ball into the cluster and hoping for the best.

Woodward decided to play the 2 into the bottom left corner with right English. He sent the cue ball off three rails, where it gently came to a stop in perfect position to send the 3 in the side.

Woodward went on to win the set, 9-5, en route to conquering the 9-ball division and the Master of the Table award.
(Video clip provided by
Accu-Stats Video Productions
.)
(Check out Accu-Stats' full library of great shots and amazing matches at www.accu-stats.com)