Player: Earl Strickland
Event: 1991 WPA World 9-Ball Championships
Date: June 2, 1991
For the latest installment of our new monthly feature detailing amazing plays on the cloth, we take a close look at a shot that earned one of pool's first highlight spots on ESPN's SportsCenter: Earl Strickland's two-rail kick-combo in the final of the 1991 World Pool-Billiard World 9-Ball Championships in Las Vegas.
Strickland took a quick 4-1 lead in the race-to-9 match against Nick Varner in what was a largely sloppy contest, punctuated by moments of high drama. One of the toughest players to put away, Varner stayed close, and, at 7-4, received a fortunate roll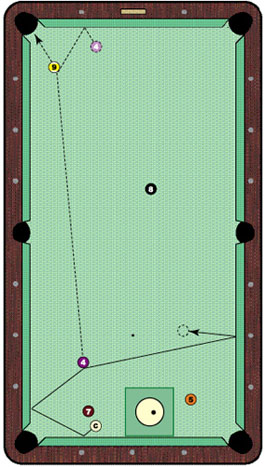 that left Strickland hopelessly hooked behind the 7 ball on the short rail. The capacity crowd of nearly 700, either lacking pool smarts or simply playing to the cameras, cheered the shot as if the result had been planned.
"What are they clapping for?" Strickland moaned into the camera. "I don't think this is funny."
Making contact with the 4 ball would be fairly routine, but Strickland spied an opportunity to ice the game and take the hill. Striking the cue ball with right English and a firm stroke, he ran the cue ball off two rails to nip the edge of the 4, which rolled the length of the table and nudged the 9 into the corner pocket.
"Look at this!" Strickland screamed as the 9 ball headed homeward. His leaping, fist-pumping war dance helped earn the shot a spot on SportsCenter's "Plays of the Week."
"I had a little fun on the 4-9," the 29-year-old Strickland said at the time. "This sport needs character. We need the poker-faces and the emotional types."
Despite a spirited Varner comeback, Strickland won the championship match, 9-7.
(Check out Accu-Stats' full library of great shots and amazing matches at www.accu-stats.com)