Player: John Brumback
Event: Derby City Classic 9-Ball Banks Division
Location: Elizabeth, Ind.
Date: January 26, 2016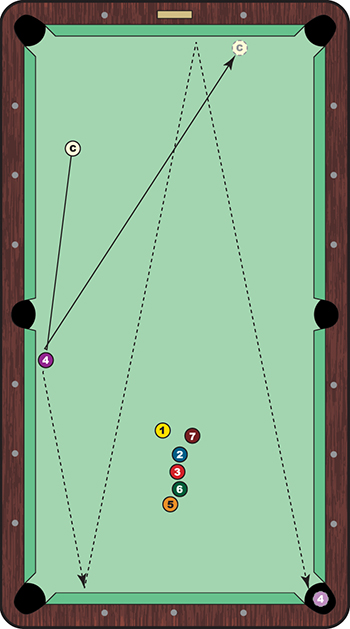 Bank Pool, one the Derby City Classic's three main divisions, isn't the most popular discipline. It's a bit of a regional flavor, with its popularity centralized in Kentucky, Tennessee and Ohio. This year, the modified double-elimination tournament attracted 473 players, though few could measure up to John Brumback in 9-ball banks. Entering this year's event, the Kentucky farmer had conquered the division twice, going back to back in 2009-2010, and is a mainstay in the later rounds.

Against Alex Olinger in a race to 3, Brumback was a win away from the final. With two balls down, he faced the difficult situation shown in the diagram. Six balls sit around the footspot with the 4 ball as the only outlier, pushed against the long rail. Considering the cue ball's position, he didn't have anything close to an angle on a ball in the stack. Even the available object ball left him an awkward angle toward any natural bank.

Undaunted, Brumback took aim at the 4, calling for a three-rail bank in the bottom right corner. He drilled the 4 directly into the left long rail at the perfect angle that sent it off the foot rail, back up-table and then directly into the intended pocket.

As far as three-railers go, this shot had such a high degree of difficulty that even a player of Brumback's stature hedged his bet of making it. He drew the cue ball directly toward the head rail, pulling it back so he'd leave Olinger in a tough spot if the 4 didn't drop. Of course, it did, and Brumback banked two more balls for the game. He whitewashed Olinger, 3-0, then defeated Jayson Shaw, 3-2, to finish his undefeated run to his third banks title.
(Video clip provided by
Accu-Stats Video Productions
.)
(Check out Accu-Stats' full library of great shots and amazing matches at www.accu-stats.com)