Player: Alex Kazakis
Event: 2017 Derby City Classic "Big Foot" 10-Ball Challenge
Location: Elizabeth, Ind.
Date: January 21, 2017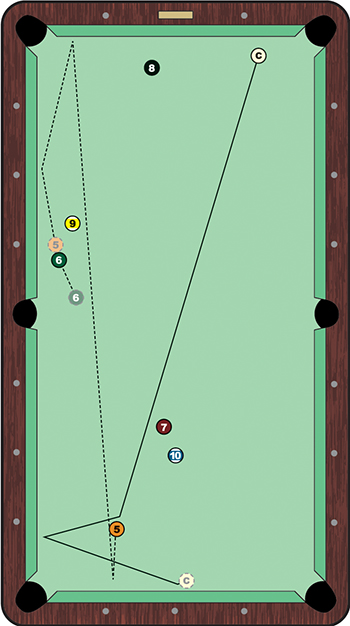 The Derby City Classic can be a bit daunting for a first-timer. The never-ending action, the unforgiving glare of the ballroom lights, the almost infinite number of distractions — it all adds up to a pool player's paradise.

By the time Alex Kazakis pulled off this month's entry into the Stroke of Genius, he was feeling it, to the say the least. The 25-year-old faced Derby heavyweight Alex Pagulayan in the "Big Foot" 10-Ball Challenge, a 16-player, single-elimination event with a hefty $1,000 buy-in. The Greek up-and-comer raced out to a 9-1 lead in the race-to-11 set. The two Alexes traded safeties, until Kazakis found himself with a view of the 5 ball, but a bit of cloth between it and the cue ball. (The "Big Foot" Challenge takes its name from the event taking place on a 10-foot Diamond.)

Commentators Mark Wilson and Danny DiLiberto agreed Kazakis only had one solid option: Play a near-stun shot on the 5 ball, sending it up-table and somewhere near the two-ball cluster along the left long rail. Such a shot would require precise speed and control of the 5, which would need to slide just barely to the right of the 9 ball. Kazakis played the shot perfectly. The 5 followed the path shown, coming to rest after dribbling into the 6 ball with a nearly full hit. The cue ball, meanwhile, slid to the left and then came to rest near the middle of the bottom rail.

OK, in full disclosure, Pagulayan came to the table and sank the 5 with a rail-first hit and ran out the table. But Kazakis had the last laugh, eventually taking the set, 11-5.
(Video clip provided by
Accu-Stats Video Productions
.)
(Check out Accu-Stats' full library of great shots and amazing matches at www.accu-stats.com)