Player: Ralf Souquet
Event: 2008 Derby City Classic
Date: Jan. 13, 2008 (3 a.m.)
Not every great shot has to be all about pinpoint marksmanship or jaw-dropping wizardry. Sometimes you have to throw the context onto the scales. Take for example our featured shot this month: Ralf Souquet's force-follow cloth-burner at 3 a.m. in the final of the 2008 Derby City Classic's 9-ball division in Louisville, Ky.
Souquet usually fares well at the DCC, due in part to his refusal to partake in the extracurricular activities that draw the attention of many other pros and would-be titlists. It's early to bed for Souquet — when Derby's helter-skelter schedule allows it. So, he's usually fresh for the 9-ball division final, where he's found himself three of the last five years.
He started play at 11 a.m. on Jan. 12 and proceeded to complete nine matches over the next 16-plus hours. The final against Francisco Bustamante kicked off at 2:16 a.m. on Jan. 13, after Bustamante had barbecued Souquet with a seven-game run in the previous set. But the steely Souquet got it together and took a 5-2 lead in the deciding match.
Souquet shattered the rack and found a nightmarish scenario — essentially straight-in on the 2, bridging on the rail, and needing to transport the cue ball all the way back downtable for the 3. With a clipped pace and let's-get-this-over-with attitude, he sized up the shot, zeroed in on his cue-ball contact point with five and a half practice strokes, and then rammed home the 2 as the cue ball carved a loopy two-rail path to the 3.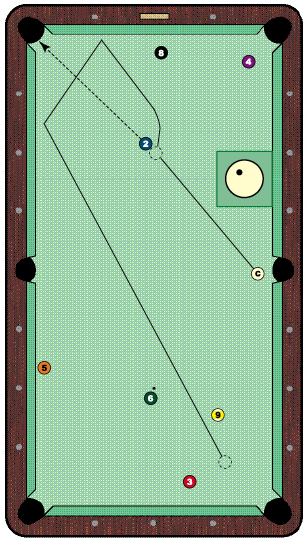 "I had to play this shot with Speed Four [equivalent to four lengths of the table], and it's a very difficult shot especially with that kind of speed," Souquet said. "I had to cheat the pocket to the left to create enough angle for the cue ball to get position on the 3 ball.
"I didn't consider any other options but there would have been a chance to cross-bank the 2 between the 8 and the 4 and bring the cue ball over one rail down to the 3. I liked my chances a lot bigger on the shot I chose though. … Of course there is always a chance of missing this kind of shot. The biggest concern was that I could have run the cue ball into the 8 ball because of the natural bounce due to the force follow. But when you think too negative, it will actually turn out bad. At this moment, I was quite sure I'd make the ball and get good position on the 3 ball."
The sleep-deprived Souquet eventually won the match, 7-2. He didn't even consider his fatigue at the time. "When you have played that many hours, you don't start thinking about fatigue or tiredness," he said. "You either have some energy left to concentrate or you are lost anyways. Usually you play by instinct and do the right things at the right time. I was tired but I had only one thing in mind — winning this 9-ball match."
(Check out Accu-Stats' full library of great shots and amazing matches at www.accu-stats.com)