Player: Efren Reyes
Event: Derby City Classic One-Pocket Division
Location: Elizabeth, Ind.
Date: January 27, 2016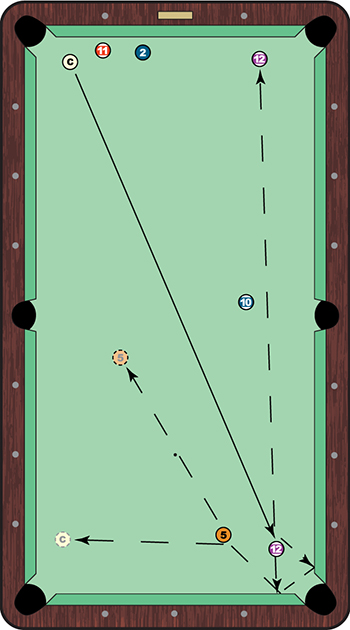 Sit down for a one-pocket match between Efren Reyes and Scott Frost, and it'll only be a matter of time before genius appears. The two one-hole luminaries met each other relatively early at this year's Derby City Classic in a race-to-3, with 46 players still left in the field. Reyes's domination in the Louisville event is obvious, with six one-pocket titles in the event's 17 years. Frost, meanwhile, took the title in 2010 and is regularly in the running.

This time around, in January, Reyes took the first rack for an early 1-0 lead. Up 6-4 in balls in Game 2, the Filipino legend was not in a pretty spot. Frost, shooting at the lower right, had the 12 ball a few inches from the pocket with the 3 on his side of the table. The cue ball was just off the head rail, near the top left corner. It was clear to spectators that Reyes had to pop the 12 out of its opponent-friendly position. What the rest of the crowd didn't know, though, was that the Magician had a second trick for the cue ball.

As expected, Reyes sent the cue into the 12 so it clipped the stripe off the foot rail and back up-table. The cue ball then went to rails and into the 3, hitting it on its left side. The bank-kick cleared the red ball from danger, while the cue ball came to rest in a difficult spot for Frost.

It's not uncommon to see such a seismic shift in the table's advantage in a single shot. But pulling off such a feat from the spot Reyes found himself? There's a reason he's won a half-dozen one-pocket titles. He took this match on the hill, 3-2, but eventually came up short in the long run, finishing in sixth place.
(Video clip provided by
Accu-Stats Video Productions
.)
(Check out Accu-Stats' full library of great shots and amazing matches at www.accu-stats.com)