Player: Jayson Shaw
Event: 2017 Derby City Classic "Big Foot" 10-Ball Challenge
Location: Elizabeth, Ind.
Date: January 21, 2017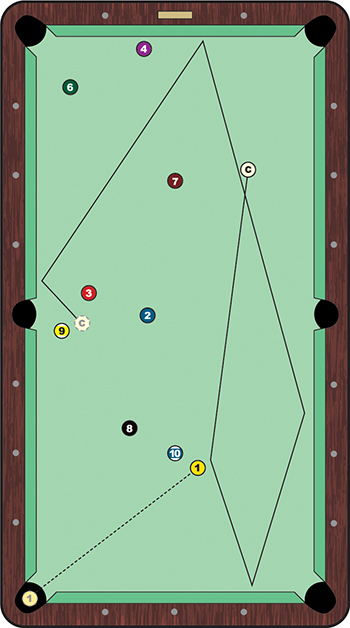 Jayson Shaw was feeling it in 2016, to say the least. The BD Player of the Year began the year as a hard-working, well-traveled pro with loads of potential. The Scotsman-turned-New Yorker broke through on the international stage with a $50,000 win at the Kuwait 9-Ball Open.

The momentum of his killer campaign didn't stop when the calendar flipped to 2017. While defending his title at the "Big Foot" 10-Ball Challenge at the Derby City Classic, Shaw ran into Mosconi Cup teammate Nikos Ekonomopoulos. The 16-player, single-elimination event was played on a 10-foot table, making things a little more difficult for the elite field.

Shaw had no problems adjusting to the extra real estate, running out to a 5-0 lead in the race-to-11. He sank the 5 ball on the break, only to find himself in the tough spot shown in the diagram.

With the 10 ball inches from the 1, Shaw had a natural place to hide the cue ball with a nearly full hit on the 1. But against commentator and BCA Hall of Famer Danny DiLiberto's advice to play safe, Shaw saw a path to perfect shape on the 2.

With a bit of outside English, he dropped the 1 perfectly into the bottom left corner. The cue ball ricocheted off the bottom and long rail. Its angle opened when hitting the head rail, as it missed the left side pocket by a few inches and came to a stop in perfect line with the 2.

Shots like these powered Shaw to an 11-1 win over Ekonomopolous — and through the rest of the field for $10,000 and his second straight "Big Foot" 10-Ball Challenge title.
(Video clip provided by
Accu-Stats Video Productions
.)
(Check out Accu-Stats' full library of great shots and amazing matches at www.accu-stats.com)