Player: Roger Griffis
Event: 2001 Accu-Stats 8-Ball Invitational
Location: Burbank, California
Date: October 26, 2001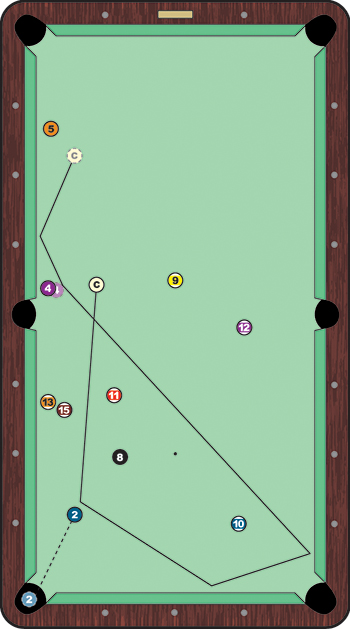 It's a simple question answered by millions of pool players at weekly leagues across the country: Stripes or solids?

The popularity of 8-ball among pool's amateur set is unmatched. But when it comes to the pros, the discipline often takes a backseat to rotation games, straight pool and one-pocket. When the game's best partake in 8-ball, they let you imagine, "What would I do in this situation?"

Keep that question in mind when looking at the diagram here. Johnny Archer, tied 5-5 in a race-to-eight set against Roger Griffis at the 2001 Accu-Stats 8-Ball Invitational, chose stripes, primarily because the problem caused by the 4 and 5 balls on the left long rail.

But Archer erred early, leaving Griffis with seven solids. He repeatedly tried to dislodge the 4 with the cue ball, but Griffis repeatedly failed, even though he remained at the table. Finally, in the position shown, the 4 was still tied up with the side pocket and blocked by the 5. Griffis had a long shot — literally — at opening up the table to take the rack.

Taking aim at the 2 ball into the bottom left corner, he loaded up on lower left English. With a firm stroke, Griffis pocketed the 2 while the cue ball hit the short rail a few inches from the bottom right pocket. The sidespin opened up the cue ball's angle around the table, sending it across the table toward the right side of the 4. It barely clipped the object ball, sending it just a few inches out into the table. The cue ball came to rest near the 5, providing an easy angle for the 4 in the side.

Griffis took the rack and eventually won the match, 8-7. Still, he fell to Efren Reyes in the round-robin event in a sudden death final.
(Video clip provided by
Accu-Stats Video Productions
.)
(Check out Accu-Stats' full library of great shots and amazing matches at www.accu-stats.com)