Player: Jasmin Ouschan
Event: Turning Stone Classic IX
Date: Aug. 17, 2007
IN THE four years since Jasmin Ouschan rolled into Verona, N.Y., for the ninth edition of Mike Zuglan's Turning Stone Classic, she's proven capable of eye-popping highlights. These days, she's firmly established as one of the top three players in the women's game. But back in 2007, she was a promising 21-year-old looking for a little seasoning in tournament play.
Bounced to the left side in the second round, Ouschan faced Florida's Tony Crosby. In the first rack of the race to 9, Crosby looked on his way out, until he flubbed a lengthy shot on the 8 in the bottom left corner as diagrammed.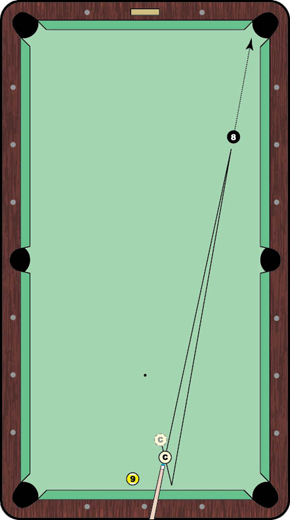 Unfortunately for Ouschan, the cue ball and the 8 lined up almost directly straight into the top right corner pocket.
With the slightest of angles, Ouschan appeared able to power up on the cue ball and send it following after the 8 ball without scratching - an approach endorsed by Danny DiLiberto and her coach, Michael Neumann, who were providing commentary for Accu-Stats. But she had other ideas.
She loaded up on draw and pulled the cue ball straight back toward the bottom rail. On its way into position for the game-winning shot on the 9, the cue ball actually rolled over its exact starting point. Combining an impressively powerful stroke and the finesse to play near-perfect position, Ouschan thrilled the spectators with her quick two-ball out. Thrilled everyone in the crowd, that is, except Neumann.
"I mean, it was not that difficult of a shot," he said. "If you play since the age of 4 or 5, that's not so difficult."
But DiLiberto, who's set to join the Hall of Fame this month (see story, pg. 42), had other ideas: "I've been playing for 100 years and that's difficult!"
(In his defense, Neumann eventually agree that it was a spectacular shot.).
(Video clip provided by
Accu-Stats Video Productions
.)
(Check out Accu-Stats' full library of great shots and amazing matches at www.accu-stats.com)