Player: Mika Immonen
Event: 2014 Accu-Stats 8-Ball Invitational
Location: Edison, N.J.
Date: November 8, 2014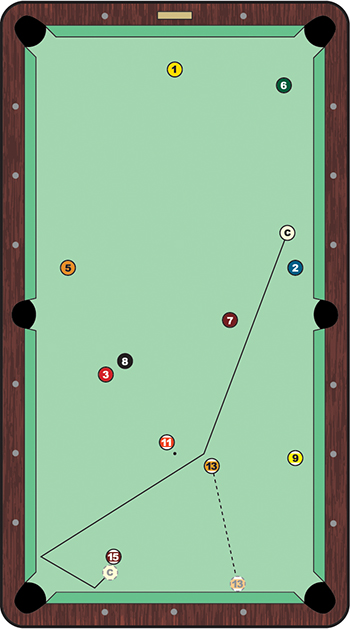 Eight-Ball may not be the most popular discipline among the world's best players, which is why it's so interesting to see top-tier pros play the game that's far and away the choice of weeknight league players. At last year's six-player round-robin Accu-Stats 8-ball Invitational event, Mika Immonen and Darren Appleton met in an alternate-break race-to-10.

The two world champions played flawlessly through the first three racks, with the Finn clearing two racks from the break to the Brit's one. In Game 4, Appleton broke and began picking off solids, but bobbled a relatively simple shot to hand the table to Immonen. He dropped a few stripes, only to lose control of the cue ball a bit and leave himself in the position shown in the diagram. Without any real angle on sinking a striped ball, Immonen went on the defensive. He thinly clipped the 13 so the cue ball went across the table, off the long rail and then rolled up underneath the 15 ball. Considering the degree of difficulty, with Immonen needing to control the cue ball's speed and the angle after impact with the 13, the shot was executed perfectly.

Despite having a number of object balls on the table, Appleton was completely locked up with the cue ball nearly frozen to the 15. He fouled, and Immonen promptly cleared the table for the win. Although he eventually stretched his lead to 6-3, Immonen watched the momentum of the match turn against him as Appleton rolled through seven straight racks for a 10-6 victory. The win was one of five in Appleton's undefeated run through the round-robin event.
(Video clip provided by
Accu-Stats Video Productions
.)
(Check out Accu-Stats' full library of great shots and amazing matches at www.accu-stats.com)