Player: Jeremy Jones
Event: Derby City Classic — One-Pocket Division
Location: Elizabeth, Indiana
Date: January 29, 2019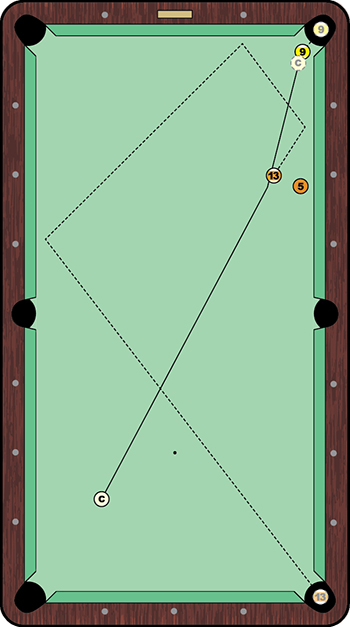 Considering all the moving pieces in a one-pocket, creativity is a premium. This month's "Stroke of Genius" shows what creativity can afford you.

In the one-pocket division at this year's Derby City Classic, Jeremy Jones faced Skyler Woodward in the ninth round. The first rack in the race-to-three opened with an extended safety battle.

Jones, already going in the wrong direction, owing three balls while Woodward was at zero, came to the table with options somewhere between slim and none. As you can see in the diagram, the cue ball is nestled next to the 3 ball along the head rail. Jones, shooting at the bottom left pocket, had an angle at the three balls clustered near the left side pocket. But missing a low-percentage shot on one of those would have all but handed the rack to Woodward.

Jones opted for a defensive shot — one that required an immense amount of skill and speed control. As you could guess, if you are playing safe in one-pocket, you are not in a great spot when you have to go rail first. But Jones played a kick perfectly, rolling the cue ball off the long rail and into the 13. With a bit less than a half-ball hit, he placed the cue ball up against the 15 near the jaws of Woodward's pocket. The 13 bounced off the foot rail, ending up a ball length to the left of its original position.

By keeping the 13 and the cue ball against the rail, Jones limited Woodward's options — though it wasn't enough to get Jones out of his early hole. Woodward went on to win the rack and the match.


(Video clip provided by
Accu-Stats Video Productions
.)
(Check out Accu-Stats' full library of great shots and amazing matches at www.accu-stats.com)