Player: Troy Frank
Event: 1999 Derby City Classic
Date: Jan. 30, 1999
Depending on your opponent, sometimes the best play is the aggressive shot. And hopefully you're in a groove and feeling confident. That was the situation in which Troy Frank found himself while playing Efren Reyes in the final of the 1999 Derby City Classic's 9-ball division.
This month's entry into our compendium of incredible shots actually could be considered a two-fer. Frank's first eye-popping shot in the last rack required some planning, but the second was a surprise to everyone.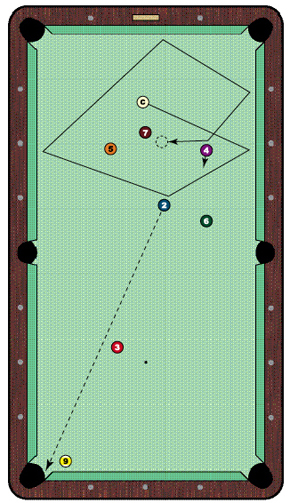 Frank streaked through the Derby 9-ball brackets on the wings of devastating play. The 28-year-old house pro and road player from just outside Canton, Ohio, wasn't intimidated by his world-champion foe in the final.
"I had the speed of the table down all day," he said. "I felt very confident playing Efren."
Leading 6-4 in the race-to-7 match, Frank had the option of pushing out or playing safe on the layout diagrammed here — both less-than-desirable options against the kicking wizard Reyes. So, Frank lined up the kick on the 2 ball — to the consternation of the Accu-Stats commentators calling the match — and calmly nailed it in the corner.
The cue ball traveled three rails and nudged the 4 for position on the 3. Frank planned to pocket the ball in the bottom-left corner, figuring it could pass the nearby 9 ball.
"The pockets were tight, and if I tried to hit the 3 thin, I might have missed," he said. "I just didn't expect the 9 to go in."
Indeed, the 3 hit the 9 more fully than expected, knocking the yellow stripe uptable and into the left corner for the title.
(Check out Accu-Stats' full library of great shots and amazing matches at www.accu-stats.com)