Player: Dennis Orcollo
Event: Derby City Classic — One-Pocket Division
Location: Elizabeth, Indiana
Date: February 1, 2019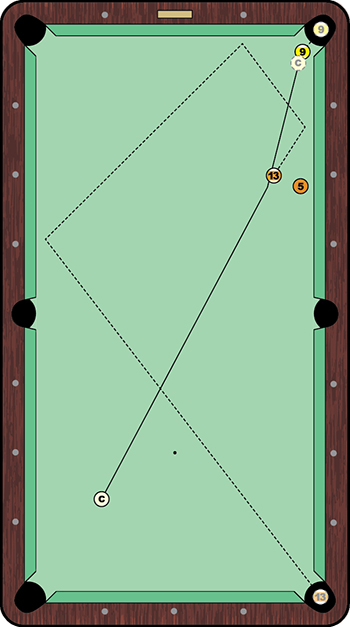 If you're still alive in the 13th round of the one-pocket division at the Derby City Classic, you're not going to find any imposters. Need proof? With just four players left, Dennis Orcollo drew Francisco Bustamante — and that could be considered fortunate. Django, while collecting his share of titles at the Derby, has never won the one-pocket event, unlike the other two remaining players, Corey Deuel and Alex Pagulayan.

By this time in the competition, both Filipino legends had burned their re-buys, with Derby's modified double-elimination format allowing players to buy back into the event after one loss. Bustamante took the first set in the first-to-three set match, before the two each took six of the first 12 balls in the second rack.

Orcollo then approached the table, shooting at the lower right corner in the diagram, without a clear offensive option. The 13 ball was the friendliest target, if a three-rail bank from one end of the table to the other can be considered friendly.

But Orcollo played the shot perfectly, hitting the 13 with pocket speed while pushing the cue ball forward after contact with the object ball. If he couldn't manage to drop the 13 in his pocket, the 5 ball would be an obstacle to keep Bustamante from clearing it away from his pocket.

Orcollo, though, hit the 13 perfectly, so it ambled around the table and directly toward his pocket. The cue ball rolled forward as planned, knocking the 9 ball in the top right corner, stopping in perfect position to play the 5 ball in his pocket for the win.

Orcollo won this set, 3-1, then dispatched Pagulayan and Deuel to take the one-pocket title.


(Video clip provided by
Accu-Stats Video Productions
.)
(Check out Accu-Stats' full library of great shots and amazing matches at www.accu-stats.com)