Player: Shane Van Boening
Event: Accu-Stats "Make It Happen" One-Pocket Invitational
Location: Edison, N.J.
Date: June 28, 2016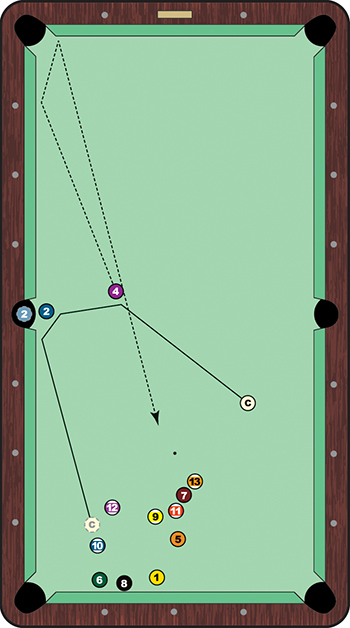 The final of the 2016 Accu-Stats "Make It Happen" One-Pocket Invitational didn't lack in star power with Efren Reyes taking on Shane Van Boening. And it didn't take long for play to go from strategic to sublime. This gem didn't necessarily equal automatic victory for Van Boening, but the beauty of a shot isn't always dependent on a checkmate.

At this point in the opening game, Van Boening was trailing in the ball count, 3 to -1. He's shooting at the lower right pocket, so a clear offensive option isn't there. Instead, Van Boening takes aim at the 4, sitting open for Reyes in the middle of the table. Commentator Jeremy Jones sees what the best American of the 21st century is thinking — send the cue ball into the 4, off the 2 into the corner and back down to the left side of the stack. Pretty risky, considering the precision necessary to navigate so many variables. But there's a reason Shane Van Boening is, well, Shane Van Boening. With a little low, left English, the American star sent the 4 into the long rail and off the corner pocket point. The cue ball knocked the 2 into the side and meandered down to the rack, coming to a stop between the 10 and 12. The 4 ball, after rattling around the top right corner, headed back down-table and bumped a few balls in the middle of the stack.

All in all, Van Boening managed to eliminate two potential balls for Reyes while leaving the cue ball in a preferable position on the left side of the stack. Van Boening didn't win himself the rack with the shot, but he displayed the creativity, cue-ball control and measured execution necessary to make a near perfect shot.
(Video clip provided by
Accu-Stats Video Productions
.)
(Check out Accu-Stats' full library of great shots and amazing matches at www.accu-stats.com)