1995 WPBA McDermott Cues Orlando Classic . Nov. 5, 1995 . Orlando, Fla.
The arrival of Allison Fisher on (or maybe, more accurately, on top of) the WPBA Classic Tour is officially dated as October 25, 1995, at an event in Charlotte, N.C. But the real "America, meet Ms. Fisher" moment took place two weeks later.
At the 1995 McDermott Cues Orlando Classic, Fisher edged Loree Jon Jones in an 11-10 thriller of a final. Just weeks removed from a trans-Atlantic flight that brought her from the comforts of her home in England and the known quantity of snooker, Fisher snapped off the second WPBA event she ever entered.
"I came to America with the attitude that it was going to take me six months to win a tournament," she said. "And I did it in two weeks. I was more surprised than anyone."
With an encouraging ninth-place finish in her first event, Fisher was unstoppable at the Orlando Classic. She breezed through the winners bracket, notching wins over Jeanette Lee and Ewa Laurance - the two women who beat her in her first American professional event.
Fisher displayed a preternatural understanding of 9-ball. Though she didn't consider herself a pool player for a few more months, the seven-time world snooker champ outshot Jones early in the final match. Fisher reached the hill first, just a rack away from her first title, 10-7.
But Hall of Famer Jones, who had earned the nickname "Queen of the Hill," quickly fought back, and eventually knotted the score at 10 games apiece. With the break in the case game, Jones cracked open the decisive rack.
The balls raced around the table, but nothing fell. Not only did she come up dry, but Jones left the 1 and 9 in perfect line for the corner pocket. Fisher willingly accepted the fortuitous layout by tapping in the easy combo for her first Classic Tour title.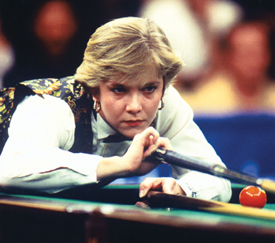 Fisher's win in Orlando was a bridge to the next 50-plus titles.
After winning the next event, the WPBA's National 9-Ball Championships, with another victory over Jones in the final, Fisher knew that the decision to climb on that one-way flight bound for the U.S. by way of Canada was paying immediate dividends.
"I now believe coming here was the best decision of my life," she said at the time.
Since that first taste of success, Fisher has had her share of positive reinforcement about the gamble she took more than a dozen years ago. She surpassed 50 wins on the WBPA Classic Tour last year; and with two more wins in 2008, she doesn't appear to be slowing down any time soon.
"I won that first one much, much quicker than I expected," she said. "I was delighted knowing I was capable of that. Getting that first one put me in a great place for my second win."