1999 Carl Conlon Memorial Grand Prix . July 18, 1999 . Las Vegas, Nev.
Sang Chun Lee's name is practically synonymous with three-cushion in the United States. He held the U.S. National title for a dozen years. And the late Hall of Famer will forever be remembered for his oft-quoted mantra, "I want to make three-cushion billiards beautiful in America."
(Click above to view the end of the last set of the match
Video provided by Accu-Stats Video Productions)
Well, the game was certainly at its most stunning at the Carl Conlon Memorial Grand Prix, one of the largest and most prestigious carom events held on American soil. Trailing 2-0 in the best-of-five-set final, Lee strung together three consecutive sets against Turkish sensation Semih Sayginer to cap an unbelievable tournament.
All through the event, which featured 32 players drawn in a single-elimination bracket, great play and unbelievable comebacks became the norm. Daniel Sanchez, the reigning World Champion at the time, posted a strong 2.296 average - earning only a fifth-place finish. Dick Jaspers barely finished in the top 10 with a 2.027 average.
While Lee cruised through his early matches, never facing a do-or-die fifth set, Sayginer looked to be incapable of avoiding the dramatic. He overcame 2-0 deficits in the first two rounds. After demolishing Sanchez 3-0 in the quarterfinal, Sayginer squared off with Torbjorn Blomdahl in the semifinal.
Again down 2-0, Sayginer had to win three straight sets from one of the greatest three-cushion players of all time in Blomdahl. He forced a fifth set, which went down to the final point. With both players at 14, each one missed shots by the slimmest of margins. Sayginer finally scored, sending the crowd into a frenzy.
Just minutes after the dramatic victory, Sayginer had to face Lee in the final. Mustering enough adrenaline to stay sharp, Sayginer found himself in an unfamiliar spot; he took the first two sets, scoring 30 points in just 12 innings.
Now it was Lee who had to notch three straight sets. And this was when the game of three-cushion was at its most beautiful.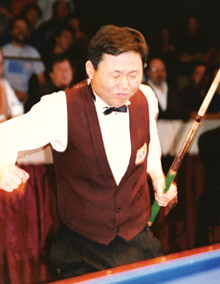 Lee celebrated his most memorable comeback with a healthy fist-pump.
He took the third set without much of a hassle, 15-7, then waltzed past the Turk in the fourth, 15-3, needing just four innings to even the match. Lee squarely hit naturals and connected on the most brilliantly creative shots, leaving spectators shaking their heads in disbelief.
Sayginer tried to push back, but the tide of momentum had turned against him. Lee closed out the fifth set, 15-10.
"I was pushing myself maybe too hard," Sayginer said, nearly a decade after the memorable final. "I was putting in a lot of energy to lead 2-0 and was feeling good, but afterwards I had no energy left. I could not save my energy for the whole game."
With the American crowd behind him, Lee made the most of missteps from his battle-weary opponent.
"I gave him the chance and he took it," Sayginer said. "He realized that he could win the game, and then he attacked. It was so difficult for me to take it back in the last set. I was exhausted."